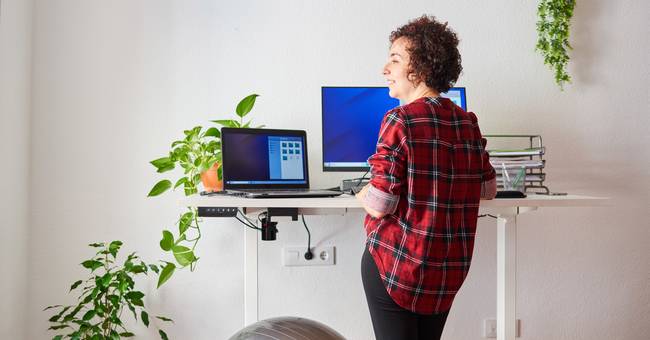 Fit in the home office
How to keep the fun at work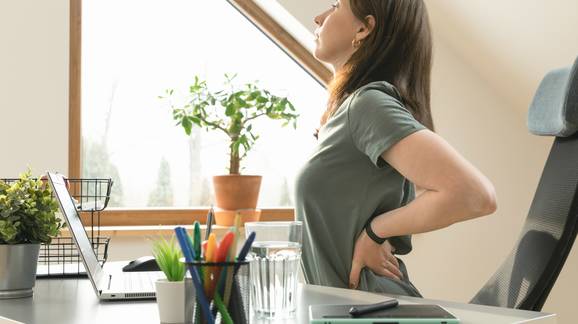 GOODBYE TO BACK PAIN:
SITTING COMFORTABLY EVEN IN THE HOME OFFICE
Comfortably preparing a presentation on the sofa with a laptop on your knees? That sounds tempting at first - but in the long run, tension and back pain are inevitable. The spine doesn't take well to hanging crooked or being squeezed for a long time. That's why a proper (writing) table with an ergonomic chair makes sense.
The chair should be adjusted so that the upper and lower legs form a 90-degree angle, as should the upper and lower arms at the table.

Your eyes should be about an arm's length away from the screen and the top edge should be slightly below your eye level.

The workplace should be well lit - ideally with daylight plus a bright light for dark winter hours.

Anyone who suffers from myopia and presbyopia should consider monitor glasses. They relieve the eyes when working at the computer.

Stand up in between - for example during phone calls or with a height-adjustable desk.
MOVEMENT MAKES YOU HAPPY AND HEALTHY
One video conference after the next is not only exhausting, but also poison for your back. So make sure you get some exercise in between. You shouldn't clean your entire apartment during working hours, but grabbing a cup of coffee, tea or a glass of water from the kitchen will help your back. Or you can do a few simple gymnastic exercises - after all, no one is watching you at home.
While standing, alternately stretch your left and right arms up as far as you can.

Stand completely straight. Make sure that your pelvis is slightly tilted forward and that your chest remains straight. Then stretch your arms to the side and let them bob back a little under tension - without lifting your shoulders!

Let your upper body hang down as low as you can for 30 seconds. Then slowly straighten up again.

Walk around the room on tiptoe and try to pick up a pencil with your toes.

Stand straight and then bring the left elbow and right knee to the center of the body, then the right elbow and left knee - always alternating.
THE MAGIC BOX AGAINST STRESS
The project has to be finished urgently, there are problems in the coordination, and the e-mail inbox is overflowing? Negative stress weakens your immune system and can cause significant health problems in the long run. With a few tricks, you can reduce the biggest sources of stress at home: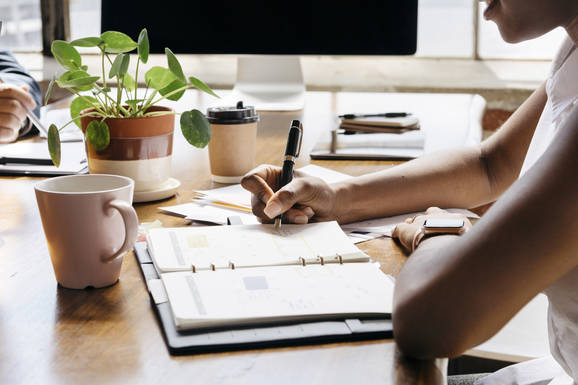 Plan your day the night before. Try to be realistic about the amount of time you'll need, and block out time to catch up on emails and unexpected tasks.

Set aside the most difficult task for the time when you're fittest - for early risers, that's usually right in the morning; for night owls, it's in the afternoon.

Make sure you really get some peace and quiet for complicated tasks. Turn down your phone and smartphone and make sure your mail program doesn't distract you.

After an hour of concentrated work, take a short break. Open the window, take a deep breath, notice the smells outside, watch the birds.

Do not try to do several things at the same time. Our brain can't do that, and jumping back and forth between topics is particularly stressful. Instead, write a to-do list that you work through one after the other. And don't answer e-mails constantly in between, but at fixed intervals, for example once an hour.
GOOD COMMUNICATION - IS THAT ALSO POSSIBLE ONLINE?
You can fully rely on your team, the colleagues are nice and reliable, the boss is understanding and open-minded. An unrealistic ideal? Not necessarily. A lot depends on your communication. And for many people, that's a little more difficult from the home office than in direct contact. That makes it all the more important to pay attention to this.
Pay attention to the style of your e-mails: A small personal sentence at the beginning, a remark about the weather, a question about how you are feeling create a pleasant atmosphere.
Lots of praise: If you thought a presentation was good, tell the colleague. Or thank the colleague for the quick help and praise his expertise. Write that you're glad you can always rely on your teammate. We all hunger for praise. It shouldn't be unfounded, of course. But all the little things that go well should be said. That way, everyone is a little happier. And feel good in the team.
Looking ahead: Something went wrong? That's annoying. But instead of looking for someone to blame, think about how the mistake can be avoided next time. And whether something could be changed structurally to reduce sources of error.
Allow personal words: Even in a video conference, a few personal words are allowed when appropriate - just as is natural at the beginning or end of a face-to-face meeting.
Address problems in a timely manner: Bored with the task at hand or overwhelmed by an assignment? Don't bottle up your anger, but talk to your supervisor. Explain your problem factually and from your personal perspective. ("I feel that..."). Also try to understand the view of others involved.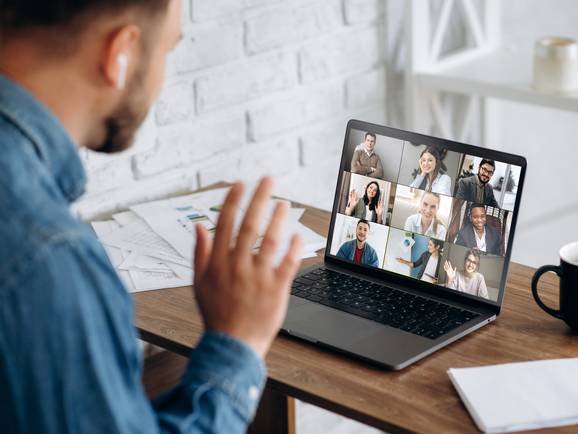 Generally speaking, social interaction plays a major role in the economic success of a company over the long term. Even under ideal conditions in the home office, there's no denying that you communicate more in the office, whether it's a short conversation at the coffee machine or after work. Social interactions not only lift your spirits, but also promote your health.
Tip: You can find out more about successful communication under the heading "Nonviolent communication". There are also courses on this subject.
SKILLFUL EATING STRENGTHENS CONCENTRATION
The advantage at home: You have the refrigerator around the corner, which is filled in the best case. Take the opportunity to eat healthy food instead of chocolate bars. Take a few carrots, tomatoes or cucumbers as a snack. Or a small cereal with fruit. Prepare a light, quick meal for lunch. Couscous with vegetables, whole-grain pasta with peppers and zucchini in tomato sauce, or a salad with mixed grains and feta are good choices. In doing so, consciously enjoy the preparation. Cut carefully, taste, enjoy the colors of the vegetables. Also make sure to drink plenty - preferably water, tea or spritzer.
DURING FREE TIME REALLY
FREEDOM
After work you are so exhausted that you just lie on the sofa and watch series? Try something different for a change. Even if you have to pull yourself together at the first moment, activities often give you new strength and energy.
A few ideas: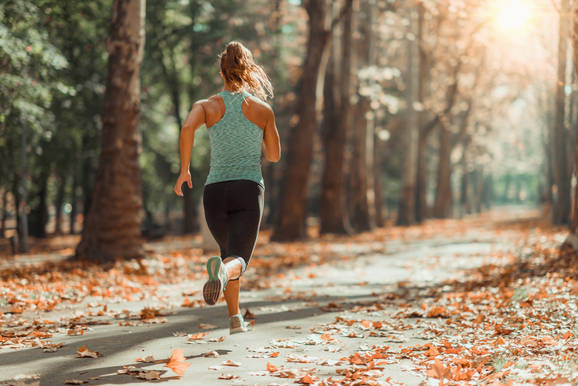 A walk in the woods or a bike ride clears your head and puts you in a good mood. It also gives you the best ideas.
At the sports club you can really work out and meet nice people at the same time. people.
Singing has been proven to make you happy - and most choirs are looking for singers. Just try it out.
Volunteering helps other people and boosts your self-confidence. The knowledge that you are needed gives you satisfaction.
Painting, gardening, model making, tinkering in the workshop - find an activity that you enjoy and that gives you inner strength.
Meditating is super easy - focus on your breathing and train yourself to deal with distractions. With tools like wingwave, even as a beginner you can use the full potential of your meditation.
THIS WAY YOU CAN RELAX WELL
And here we have a few more relaxation exercises for you. If you do them to relax between work, it's a good idea to set an alarm after five minutes.
Fantasy journey: Remember your last vacation. What was the weather like? Can you still feel how the wind felt on your skin, the sun, the rain? What was the smell like on vacation? Try to remember a scene as accurately as possible, with lots of details.
Breath: Stand at the open window. Breathe in deeply and out slowly. Where does the breath go? Try to let the breath flow deep into your belly. Can you feel the cool air flowing through your nose? Concentrate completely on the flow of your breath.
Juggling: Get three juggling balls and practice in between: First throw up one ball and catch it with the other hand, while changing the other ball to the first hand. When this is easy, throw two balls up in succession with the first hand. Juggling loosens the shoulder muscles, trains coordination and clears the mind.