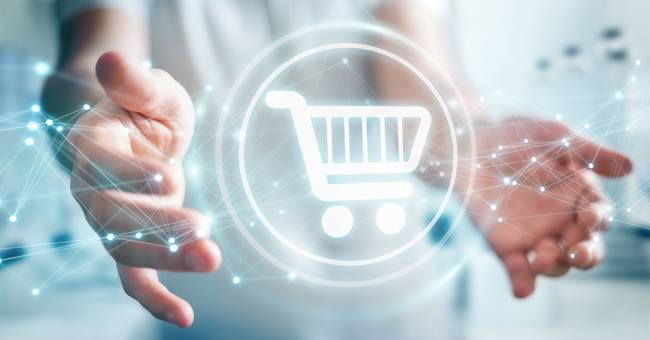 CrefoPay and Pimcore
EVERYTHING IN ONE PLACE - With CrefoPay Integration for Pimcore
At best, the various options do not have to be connected through individual interfaces themselves, but can be handled by one system bundled together, allowing the merchant to focus on providing the best shopping experience for its customers instead of struggling to provide payment options. With CrefoPay, the service backed by Creditreform, this is exactly what is possible. The CrefoPay interface can be used to cover both immediate fulfillments, i.e. goods that are delivered immediately after the customer has checked out, and delayed fulfillments. Furthermore, the CrefoPay integration simplifies various internal store processes, from inventory management to accounting. CrefoPay functions as a framework that offers both the provider and the user of a web store an effective risk management system that allows effective fraud prevention, credit checks, and receivables management to be integrated into the online store in just a few steps.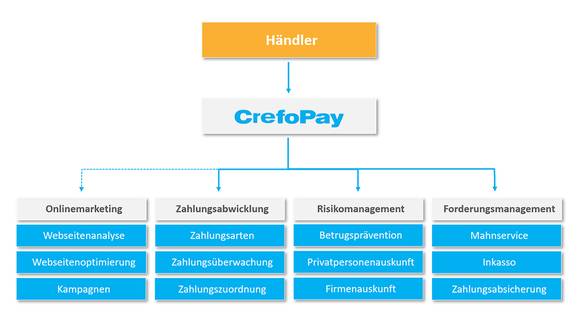 THE MODULAR SOLUTION
CrefoPay offers ready-made software modules for the most popular store systems that can be easily installed or adapted to store solutions developed in-house. This makes it possible for developers to use CrefoPay's API interface and integrate it individually into their own store system. Since it is a complete solution for payment processing in your store, it is not only payment defaults and purchase cancellations that can be reduced. CrefoPay risk management helps with fraud prevention by identifying fraud patterns through multi-level risk assessment. Furthermore, CrefoPay's accounts receivable management is excellently solved. The merchant does not have to worry about monitoring, allocating and booking incoming payments. CrefoPay also takes care of everything from dunning to debt collection - naturally in close coordination with the merchants to ensure that customers are not left with a feeling of being inconvenienced.
The simplest and fastest type of integration here are the "Hosted Pages". Here, CrefoPay offers the merchant a complete payment page with all common payment methods. This variant ensures that no security-relevant data is stored in the merchant's store, which means that thanks to CrefoPay, the merchant automatically meets all security standards, such as PCI compliance as required by credit card companies.
The responsive "Hosted Page" can be easily customized in just a few steps. Both the visual design of the page and individual texts for the various payment methods are possible to a limited extent.
The convenient and inexpensive payment system can be easily created, as already mentioned. However, an optimal solution is provided by CrefoPay plugin for Pimcore. With this plugin, all payment processes are centralized in the merchant's PIM system. Here, a self-sufficient API integration is used, which not only gives the merchant unlimited creative freedom, but also provides a secure environment for the aforementioned security standards through the use of so-called "secure fields" from the CrefoPay library. In this way, the merchant retains full process and design control without having to worry about compliance with the credit card companies' guidelines on his own.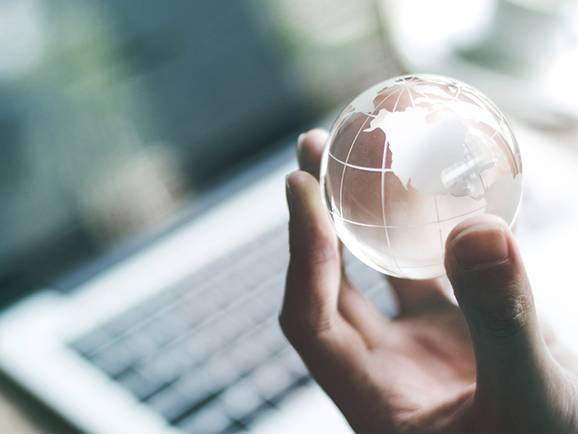 Pimcore is an open source provider that provides a multifunctional PIM system. The main task of such a system is to provide all information in an easily accessible and centralized way. For example, a company that offers products online on various platforms is a typical real-world example. A modern Internet retailer inevitably includes different sales channels. Instead of entering the products individually via the respective native systems, all information is stored in the PIM system. Product Information Management in turn provides interfaces to address these sales channels. It is thus possible to transfer products and information to a company's own online store with the help of a PIM. It thus acts as a system for all channels.
EASY AND EFFECTIVE
The combination of both systems significantly accelerates business processes. It is not only for retailers that the sale of their products becomes more convenient and secure. Ultimately, it is the buyer who benefits most. Many potential buyers cancel the order process when they see that the online retailer only offers payment in advance for security reasons. Since CrefoPay can be used to offer both a secure and privacy-compliant payment method that is still easy for consumers to use, potential purchase cancellations can be greatly minimized.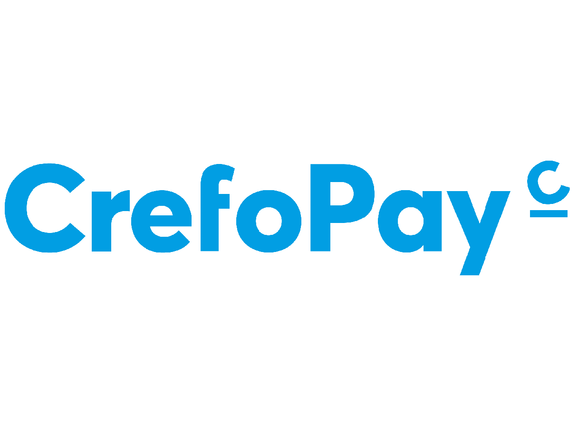 The advantages are clear. Instead of monitoring multiple platforms, payment service providers and associated payment transactions, all data can be controlled and modified centrally. Changes do not have to be made laboriously everywhere, but only once. The time saved in this way is time that can be used effectively to drive optimization elsewhere in the company.
GAL Digital is familiar with such system integrations. As a Pimcore Silver Partner, the digital agency supports and assists companies from a wide range of industries in integrating systems such as Pimcore and CrefoPay. Contact us without obligation and find out how a PIM system in interaction with CrefoPay can simplify the handling of your online store for your company.