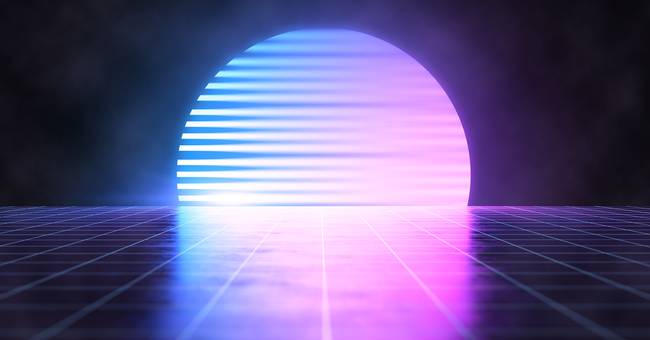 Design Trends 2020
How graphic design of websites plays an important role for success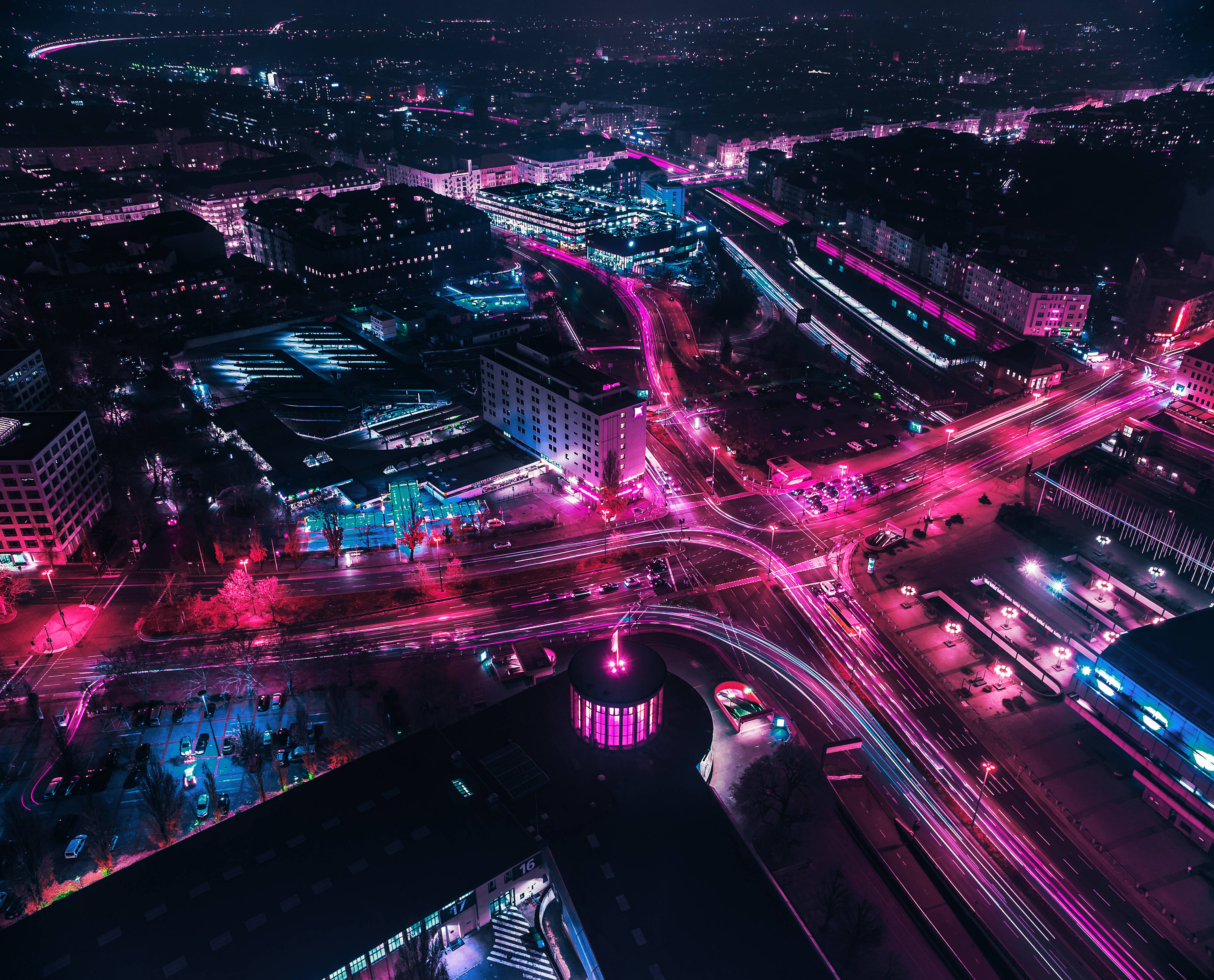 FUTURISTIC COLOUR SCHEMES - MODERN AND DYNAMIC
The future is colourful and garish. The classic colour scheme has been less and less popular in design for years. Designs in monotonous, restrained colours usually appear expressionless without attitude. Eye-catching colours, on the other hand, attract attention and this is what you need to get hold of in this stimulus-flooded world. Neon colours and particularly strong shades of colour serve as stylistic devices here. From bright pink to garish candy colours, everything is allowed.
In addition, the layout is matched with this color palette. Logos, representations and the general aesthetics are also displayed in a striking and large format. In this way the focus of the viewer is centred on the respective key images and the core messages. Modern designs get to the point quickly and do not overstrain or bore.
INDIVIDUALIZED WRITING - FOCUSING THROUGH DISORDER
Whether web design or print media: For a long time, standardized fonts defined the basic rules for a professional appearance. With the beginning of digitalisation, certain fonts were established as the norm and shaped the landscape. From headlines to continuous text, this unwritten law prevailed. In recent years, the simple integration of web fonts via services such as Google Fonts or Fonts.com has loosened up this thinking. At the latest with the current design trends, the boring standard font has come to an end.
Fortunately, because the individualized typeface offers great creative freedom. Individualized type leaves room for creativity, artistic freedom or the presentation of your own brand. The possibilities are virtually unlimited. As part of the company logo, on products or in parts of your own website - everywhere, customized letters within classic fonts attract attention and create focus. With an individual letter the reading flow is disturbed. The user who spends a few seconds on the website is forced to read his message more consciously.
The individualized font can also flow smoothly into the graphic design. Objects that are set as letters or designed to match a brand are just two examples of creative use. Brand associations can also be cleverly created in this way.
COLLAGES - SUSTAINABLY SELF-MADE
Collages are mainly known from print media. From different sources a new image is created. The results range from restrained to abstract. What is certain is that collages enrich the presentation. Their unusual appearance makes them stand out from the norms and standards. They are not only eye-catchers and they give the viewer the feeling of "self-made" and sustainability.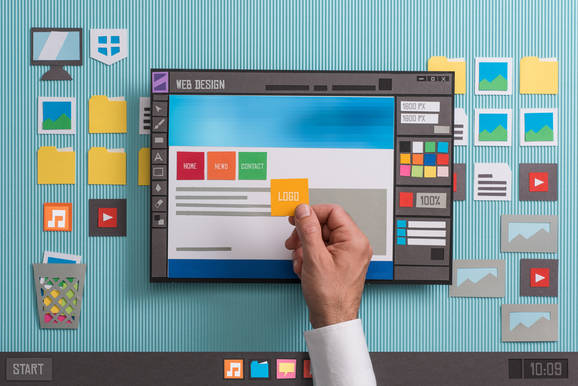 The collages of 2020 have nothing to do with the assembling and gluing of various motifs. Rather, they are created by visually sophisticated drop shadows, connecting and detaching parts of the surfaces from the respective background. The aim is to break up the straight lines of the surrounding optics and to let handmade, artistic elements flow into the design. By artificially recreating paper collages, authenticity and naturalness are built up.
3D AND DEPTH EFFECT - CREATING INDIVIDUAL FONTS
The Webdesign 2020 focuses on appealing designs with a spatial effect. Modern technology enables great 3D compositions. Even two-dimensional logos and graphics can get a depth effect with simple means. The new design trends of the year 2020 use several techniques to achieve this.
For logos, buttons and icons, the 3D stone cutting technique creates the feeling of having a tangible object in front of you. With this stylistic device even the flat representation of web pages is broken up. Users get the feeling that they are entering a realistic page with three dimensions and that buttons or the logo have their own haptics.
Slants and planes with different colors are another means of spatial representation. In this way, the illusion is created that a text consists of three-dimensional letters. Shadows enhance this effect. This is particularly effective for headlines or highlighted text passages, but it also suggests a depth effect for logos or the background.
In addition, by 2020 there will be more real-time rendered three-dimensional representations which can also move in all dimensions, since today's browsers and technologies make this easy.
IMAGE AND TEXT MASKS - CREATE INDIVIDUAL FONTS
These are text passages that are displayed in a colourful way by means of a graphic. The advantage is that very varied fonts can be created, as any graphic can be superimposed on the text. At the same time, the text is still only stored as a pure unformatted font and the graphic is also only loaded once.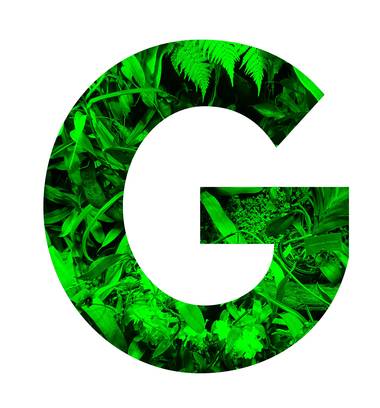 For a long time, such design possibilities were reserved for the print media. Here, too, technical progress, especially at the level of browser compatibility, opens up new possibilities in web design. Browser compatibility is guaranteed by CSS. All image and text masks are created and configured using this stylesheet language. This also ensures that loading times remain low and that the design of complete web pages can be changed completely with a few simple steps.
There are many different variants of the image and text masks. A simple variant is to select a graphic as an overlay and use CSS to define the text areas to which this graphic is applied. The image masks work similarly. Here a graphic with transparent areas is created, for example a company logo or a button. This is again combined with a coloured graphic. The result is a combination so that any number of buttons, logos or other graphics can be designed with little effort in terms of colour and uniformity. Again, the advantage of the image masks is the easy exchangeability. If the stored color graphic is changed, all image masks are automatically adjusted.
The gradient masks are another option in this area. Here, transparency is applied to the border area so that the graphic adapts to its surroundings. This technique is used for portrait photos, for example. Both linear and radial gradients can be set. Clip-path masks provide similar functionality. However, here the edge of a graphic is cut steplessly. The advantage, however, is that the graphic can be edited in virtually any geometric shape. The options range from rectangular to round to polygonal masks. The advantage again is that the graphic itself does not need to be edited and remains in its original form.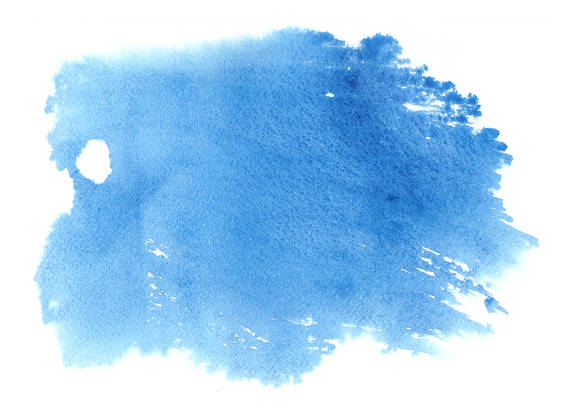 Finally, animated masks make it possible to set images in motion and bring interactivity into web design. For the user, it looks as if the image itself changes its size, whereas a mask with a preset animation hides parts of the graphic.
IMPLEMENT DESIGN-TRENDS 2020 ON YOUR OWN WEBSITE
The implementation of these and other trends requires both experience and the necessary software. Half-hearted attempts to implement such elaborate designs often produce the opposite effect. Such websites appear untidy or unprofessional. That is why technical support is useful. GAL Digital has been working in the field of web design and development of websites for years. This experience combined with expert staff, who always follow current trends, provides a wide range of possibilities. Our digital agency realizes wishes according to your ideas and delivers websites in a modern and clear design. This helps in the acquisition of new customers and the professional presentation of your company on the Internet. Contact us today and find out how we can enhance your web presence in 2020.